| | |
| --- | --- |
| 5.9.5 Young People and Self-Harm | |

Contents

1. Introduction
This document is designed to help a range of professionals, working across agencies in Greater Manchester, to respond to the issue of self-harm amongst young people in a consistent, caring and effective way.
All agencies should be aware of the need for a consistent response to young people who self-harm and should have a reporting procedure in place, which is applied and monitored regularly.
This document contains information about self-harm: what it is, potential triggers and warning signs. It details how to respond to a young person who has self-harmed or is considering self-harming and explains the pathways to be followed when working with young people.
In Greater Manchester, as in every area in the country, young people experience pain and distress. For some young people, self-harm becomes a means of coping with this distress.
Most cases of self-harm in young people, whilst distressing both to the young person and to those around him or her, can be managed without recourse to hospital treatment or other medical intervention.
Hospital emergency department should only be used in cases of medical emergency. In the majority of cases, young people can be cared for more effectively by a professional known to them offering a low-level, supportive intervention in a location they are familiar with than by visiting a hospital emergency department (A&E).
If a young person does not need emergency medical treatment, then a wait – possibly of several hours – in a busy and unfamiliar environment, whilst he or she is distressed and which may not result in any immediate support being offered is unlikely to be a positive experience.

2. What is Self-Harm and How Common is it?
Self-harm is the term used to describe a situation where an individual deliberately initiates behaviour with the intention that it will cause them harm.
Types of self-harm include:
Cutting;
Burning;
Banging or scratching one's own body;
Breaking bones;
Hair pulling;
Ingesting toxic substances or objects;
Ligature strangulation;
Cyber Self-Harm / 'Self-Trolling' (there are number of self-harm websites, used by young people, which claim to offer a supportive community but in fact offer young people a chance to compare injuries and spur one another on to more serious injury. There is also evidence to show that some young people are anonymously bullying themselves online or "self-trolling". They may set up multiple online profiles and use them to post abusive messages about themselves. This form of emotional self-harm is psychologically very complex);
Whilst some very young children and some adults self-harm, it is most common amongst young people aged 11 to 25 and the average age of onset is 12;
In 2002, a British Medical Journal survey into self-harm in England and Wales found that between 1 in 12 and 1 in 15 young people self-harm;
A 2014 World Health Organisation (WHO) Survey of 11, 13 and 15 year olds in England showed a significant increase from the 2002 survey. In the WHO survey, 1 in 5 15-year olds said that they had self-harmed in the last year

[1]

;
This means that there are likely to be between 2 and 6 young people in every secondary school classroom who have self-harmed at some time;
Whilst a proportion of young people who self-harm have a strong desire to kill themselves, for the majority of young people, there are many other factors that motivate them to self-harm, including a desire to escape an unbearable situation or intolerable emotional pain, to reduce tension, to express hostility, to induce guilt or to increase caring from others;
Self–harming may express a powerful sense of despair and needs to be taken seriously.
[1] The full survey data has not yet been released, so the prevalence data for 11 and 13 year olds is not yet available.

3. What Causes Self-Harm?
Young women are at least four times more likely to self-harm than young men;
For young Asian women, the risk is even higher;
Young offenders, Looked After Children and children with emotional, conduct or hyperkinetic disorders are all more likely to self-harm than their peers;
In addition, the following risk factors – particularly in combination – may make a young person vulnerable to self-harm.
Individual Factors
Depression / anxiety / low mood;
Poor communication skills;
Low self-esteem;
Poor problem-solving skills;
Hopelessness;
Impulsivity;
Drug or alcohol misuse.
Family Factors:
Unreasonable expectations;
Neglect or abuse (physical, sexual or emotional);
Child being Looked After;
Poor parental relationships and arguments;
Depression, deliberate self-harm or suicide in the family.
Social Factors:
Difficulty in making relationships / loneliness;
Persistent bullying or peer rejection;
Easy availability of drugs, medication or other methods of self-harm;
Living in the borough's more deprived areas.

4. Trigger Factors and Warning Signs
A number of factors may trigger a self-harm incident, including:
Family income-related poverty;
Family relationship difficulties (the most common trigger for younger adolescents);
Difficulties with peer relationships, e.g. break-up of a relationship (the most common trigger for older adolescents);
Bullying;
Significant trauma e.g. bereavement, abuse;
Self-harm behaviour in other students (contagion effect);
Difficult times of the year, e.g. anniversaries;
Trouble in school or with the police;
Feeling under pressure from families, school or peers to conform/achieve;
Exam pressure;
Times of change, e.g. parental separation/divorce.
There may be a change in the behaviour of the young person that is associated with self-harm or other serious emotional difficulties, such as:
Changes in eating/sleeping habits;
Increased isolation from friends/family;
Changes in activity and mood, e.g. more aggressive than usual;
Lowering of academic grades;
Talking about self-harming or suicide;
Abusing drugs or alcohol;
Becoming socially withdrawn;
Expressing feelings of failure, uselessness or loss of hope;
Giving away possessions;
Risk taking behaviour (substance misuse, unprotected sexual acts).
However, there may be no warning signs at all.
Self-harm can be transient behaviour in young people that is triggered by particular stresses and resolves fairly quickly, or it may be part of a longer-term pattern of behaviour that is associated with more serious emotional/psychiatric difficulties. Where a number of underlying risk factors are present, the risk of further self-harm is greater.
Some young people get caught up in mild repetitive self-harm, such as scratching, which is often done in a peer group. In this case, it may be helpful to take a low-key approach, avoiding escalation, although at the same time being vigilant for signs of more serious self-harm.

5. What Keeps Self-Harm Going?
Once self-harm, particularly cutting, is established, it may be difficult to stop. Self-harm can have a number of functions for people and it becomes a way of coping, for example:
Reduction in tension (safety valve);
Distraction from problems;
Form of escape;
Outlet for anger and rage;
Opportunity to feel real / not feel numb;
Way of punishing self;
Way of taking control;
To relieve emotional pain through physical pain;
Care-eliciting behaviour;
Means of getting identity with a peer group;
Non-verbal communication (e.g. of abusive situation);
Suicidal act.
The Cycle of Self-Harm
When a person inflicts pain upon him or herself, the body responds by producing endorphins, a natural pain reliever that gives temporary relief or a feeling of peace. The addictive nature of this feeling can make the stopping of self-harm difficult. Young people who self-harm still feel pain, but some say the physical pain is easier to stand than the emotional/mental pain that led to the self-harm initially.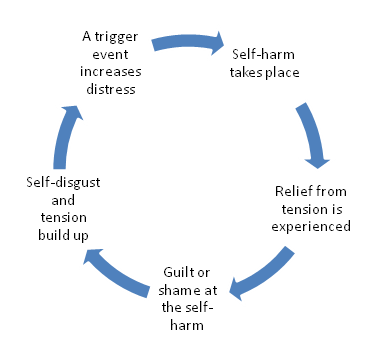 6. Self-Harm: The Facts
Fact: People self-harm in different ways.
Some cut their arms or legs, others bang or bruise their bodies. Self-harm also includes burning, scratching, hair-pulling, or anything that causes injury to the body. Some people take tablets, perhaps not a big overdose, but enough to blot things out for a while. Some people hurt themselves just once or twice. Other people use self-harm to cope over a long time. They might hurt themselves quite often during a bad patch.
Fact: Self-harm isn't necessarily about suicide.
Sometimes people harm themselves because they want to die. But often it's more about staying alive. People may hurt themselves to help them get through a bad time. It's a coping mechanism.
Fact: It's not 'just attention-seeking'.
People self-harm because they are in pain and trying to cope. They could also be trying to show that something is wrong. They need to be taken seriously.
Fact: Self-harm isn't always a sign of mental illness or of something being 'wrong' with a person.
All sorts of people self-harm. Even people in high-powered jobs. It's a sign that something is bothering and upsetting someone, not that they are mad. You may not have met anyone else who self-harms and may find it upsetting or shocking. There's a lot of secrecy about self-harm, but many thousands of people cope in this way for a while. Approximately 1 in 12 young people self-harm at some point.
Fact: Other things can be 'self-harm' too. Things like starving, overeating, drinking too much, risk-taking, smoking and many others are also types of 'self-harm'. Some coping methods (like burying yourself in work) may be more socially acceptable, but can still be harmful.
Fact: People do stop self-harming.
Many people stop self-harming - when they're ready. They sort their problems out and find other ways of dealing with their feelings. It might take a long time and they might need help. But things can get better.
Fact: People self-harm for a reason.
Self-harm is often a way of coping with painful experiences and trying to gain a sense of control over difficult circumstances. These might include being abused or neglected, losing someone important, being bullied, harassed or assaulted, or being very lonely and isolated.

7. Self-Harm Pathway
Click here for the generic Greater Manchester-wide pathway Greater Manchester Children's Safeguarding Board Self-Harm Pathway (under 18s only)
Click here for the Stockport-specific Pathway
Click here for the Oldham-specific Pathway

8. Further Information
Self-harm in Young People: Information for Parents, Carers and Anyone Who Works with Young People, Royal College of Psychiatrists
The Truth About Self-harm, The Mental Health Foundation
Suicide Prevention: Resources and Guidance, GOV.UK
Suicide by Children and Young People 2017, (HQIP)
Websites
The Mix - Essential Support for Under 25s

Appendix 1: Responding to Self-Harm
Young people may present with injuries to any member of staff, including first-aid or reception staff. It is important that frontline staff are aware that an injury may be self-inflicted and that they are aware of these guidelines and able to pass on any concerns;
When you recognise signs of distress, try to find ways of talking with the young person about how he or she is feeling;
What is important for many young people is having someone to talk to who listens properly and does not judge;
Confidentiality is a key concern for young people, and they need to know that it may not be possible for you to offer this. If you consider that a young person is at serious risk of harming him or herself or others, then information needs to be shared;
It is important not to make promises of confidentiality that you cannot keep, even though the young person may put pressure on you to do so. If this is explained at the outset of any meeting, then the young person can make an informed decision as to how much information he or she wishes to divulge. Make sure that as part of your conversation you work out together who are the best people to tell;
Resist the temptation to tell them not to do it again, or promise you that they won't do it again;
It is important that all attempts of suicide or deliberate self-harm are taken seriously. All mention of suicidal thoughts should be noted and the young person listened to carefully;
Take a non-judgmental attitude towards the young person. Try to reassure the person that you understand that the self-harm is helping him or her to cope at the moment and you want to help;
Discuss with the young person the importance of letting his or her parents know and any fears he or she may have about this;
Read the "DOs and DON'Ts" (Appendix 2) for staff and the suggested conversation prompts;
If you find a young person who has self-harmed, e.g. by overdosing or cutting, try to keep calm, give reassurance and follow your organisation's first-aid guidelines;
If a young person has a self-inflicted injury (but has not taken medication / an overdose), he or she should not be sent to a hospital Emergency Department (ED) unless a first-aider has confirmed that the young person has injuries requiring emergency medical treatment, or this has been advised by a CAMHS team member or other medical practitioner. Injuries that require emergency medical treatment include: burns that are blistering or red, cuts that are deep and / or bleeding profusely, where the young person has lost consciousness or has recently overdosed or ingested harmful liquids;
In the case of a non-recent overdose of tablets and where the young person is conscious and alert, advice must still be obtained from a medical practitioner, but it may not be necessary for the young person to attend ED. The designated officer should try to obtain advice from the duty officer at CAMHS – 0161 419 2062 – or the school nursing team. If this is not possible, the young person should get a same-day appointment with her or his GP or go to the nearest hospital Emergency Department;
Follow your local pathway in all cases of actual or intended self-harm.

Appendix 2: DOs and DON'Ts for Staff
Click here to Appendix 2: DOs and DON'Ts for Staff.

Appendix 3: Talking to Young People about Self-Harm
Click here to view Appendix 3: Talking to Young People about Self-Harm.

Appendix 4: Sample incident Form to be used when a Young Person Self-Harms
Click here to view Appendix 4: Sample Incident Form to be used when a Young Person Self-Harms.

Appendix 5: Prompts for use During a Conversation with a Young Person
Click here to view Appendix 5: Prompts for use During a Conversation with a Young Person.
End